BJS' Smart Girl Program (Empowerment of Girls)
BJS' Smart Girl program, formerly known as EOG (Empowerment of Girl) is a unique endeavour that seeks to address issues and concerns related to the emotional development of adolescent girls in the age group of 13-21 years.
The Smart Girl Program is run by BJS through its vast network of volunteers spread across the country who work relentlessly in their communities to encourage maximum participation of girls in this program. The program is well supported by BJS' 4 Master Trainers and 533 Trainers who voluntarily come forward to conduct new workshops for girls in their respective areas. To date, BJS network has conducted over 1700 workshops empowering more than 89,000 adolescent girls across the country.
With the advent of COVID19 in March 2020, BJS has been conducting online workshops for girls and is receiving huge responses from all the participants.
Smart Girl program brochure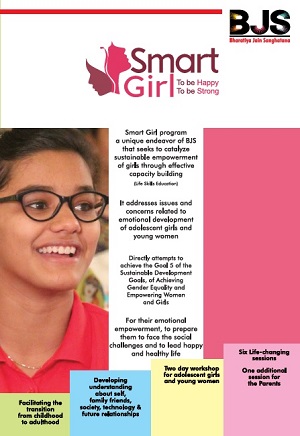 Smart Girl Program History
Smart Girl is a simple initiative that was rolled out initially on a pilot basis to evolve the design for the benefit of the girls through community network but it has now grown and expanded its scope and reach to cover all school-going girls in 8th-12th std. Over a period of time, the program has also been renamed as Smart Girl program from EOG (Empowerment of Girls) to reflect the change in the outlook of girls who are modern and liberal in thought.
The underlying assumption to this program is that girls between the age of 13-21 years are emotionally vulnerable and denied equal opportunities for development as compared to boys in a similar age group. Addressing this gender gap will lead to overall development in girls thereby increasing their capacities to make decisions and control over their own lives. The prevailing social environment and increasing reports of violence (physical and verbal) against girls also necessitates the implementation of the Smart Girls program as widely as possible.
Smart Girl program directly attempts to achieve Goal 5 of Sustainable Development Goals, of Achieving Gender Equality and Empowering Women and Girls. Since 2008, more than 7 lakh girls have been empowered through the Smart Girl program.
Smart Girl: Program Modules
The program has six educational modules aimed towards empowerment of girls:
1. Self-Awareness: This module focuses on exercises that make the girls realise their strengths and weaknesses. It then helps them improve the strengths and control or reduce the weaknesses. This also guides them on how to bring about a positive change in their personality by self-questioning the social, physical and emotional aspects and critical observation of their roles, experiences and events in their daily life.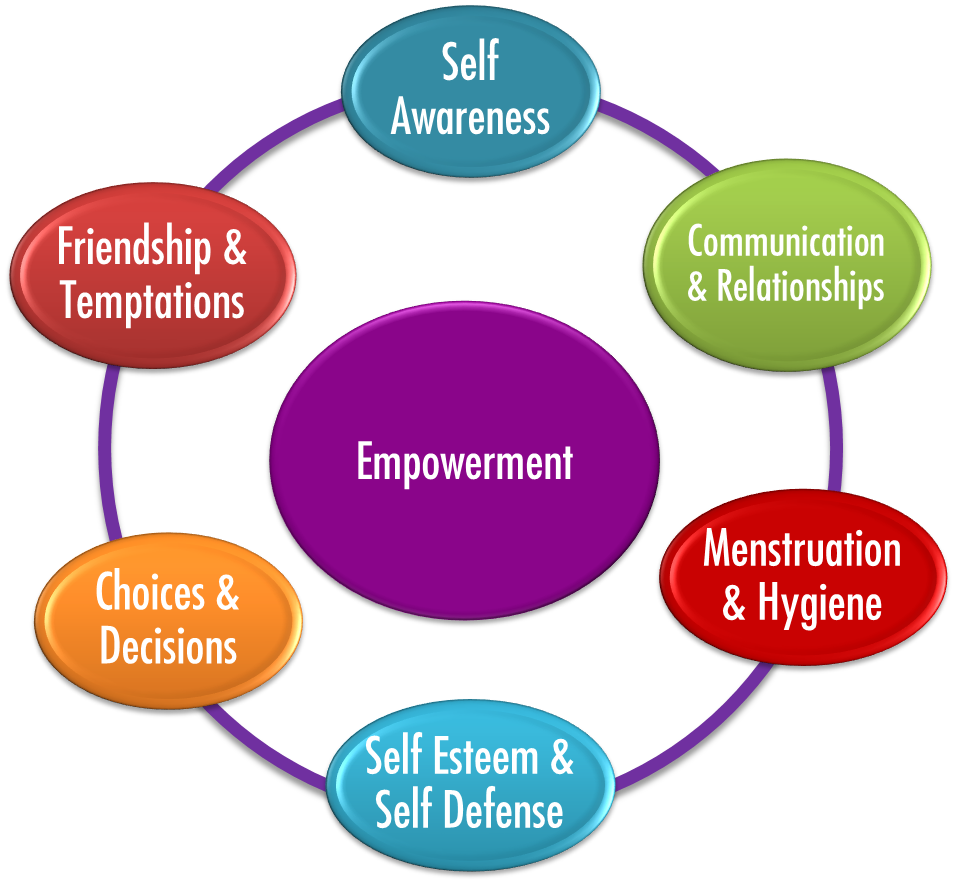 2. Communication and Relationships: This module guides the girls on good communication skills and maintaining healthy relationships. Through activities, the girls get to understand the causes of differences in opinion and their value in arriving at well-balanced decisions.
3. Menstruation and Hygiene: It focuses on physical aspects of their body, menstruation, hygiene, and nutrition. Topics, which all parents would like their children to know, but are not comfortable discussing at home are covered in detail and with scientific explanation. Healthy practices regarding menstruation are shared. This is being supplemented with health and nutrition knowledge.
4. Self Esteem and Self Defence: It focuses on discovering the varied and unique qualities each girl possesses and how to value them and create self-respect for oneself. The environment around us subjects the girls to adverse incidences and events which may make them lose confidence in themselves. This session helps them to protect their self-esteem. The session on Self Defence teaches the basics of self-defence – both mental and physical.
5. Choices and Decisions: This module develops their ability to make the right choices among the various options. The girls develop an understanding that with the freedom to make a choice comes great responsibility and equips them to conduct themselves responsibly. Elements like time management, career planning, social media and technology and their impact on our lives is a part of this session.
6. Friendships and Temptations: This informs them of the importance of friends in one's life and how to choose friends particularly close friends. There is no need to hide good friendships from parents. It educates the girls on the temptations arising from friendship with boys, risks involved in internet surfing, Facebook uploads and social media interaction and alerts them on the best practices. Important aspects like differences between a good touch and bad touch, etc. are also covered.
Program Languages
Hindi
English
Marathi
Gujrathi
Kannad
Tamil
Smart Girl Program Objectives
1.To significantly enhance self-awareness in girls that directly and indirectly improve their social status
2.To increase knowledge about maintaining self-esteem in girls and young women
3.To instil confidence to face adversities and to know the practical tips for self-defence
4.To generate ability in girls for balancing choices and making life decisions rationally
5.To facilitate positive beliefs in girls about right friendship and handling temptations
6.To sensitize parents for their adolescent children's developmental and emotional needs
7.To sensitize parents for their adolescent children's developmental and emotional needs
To enhance systems and institutional capabilities for sustained improvement in the development of girls
Key Features of Smart Girl Program
Interactive Sessions
Activity-based learning
Aligned with curriculum
Online Workshops
Program Reach Through BJS Network & Private Institutions
From 2014 to 2021, a total of 1727 workshops have been conducted by BJS through its private network that benefitted 89,277 girls across the country.
Our Reach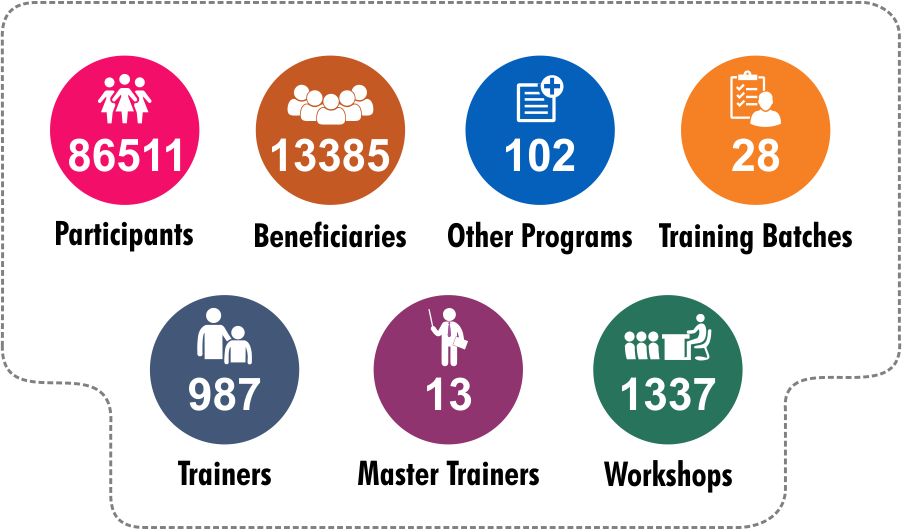 Few private networks like Rayat Shikshan Sanstha and the Federation of Jain Educational Institutes (FJEI) have expressed a keen interest in the Smart Girl program. After an evaluation of a Demo Workshop and Teachers' Training in January-February 2017, Rayat has created a plan to implement the Smart Girl Program in 434 Secondary Schools for 1,59,499 girl students of 8-9-10 standards during 2017-18 by through around 50 Master Trainers and 1600 Smart Girl Trained Teachers. FJEI has gone ahead with Teachers' Training in Maharashtra, Tamil Nadu, Rajasthan and Gujarat and hundreds of FJEI schools have started conducting Smart Girl workshops on a regular basis.
Leadership - Program Support
Suresh Patil

(National executive committee member)

Exceptional Initiative taken by Shri Suresh Patil by leading and empowering over 5000 girl at Sangli .Making record which will get published in India Book of Record- 2020

Sanjay Singhi

(National Secretary and National Head Smart Girl Program)

Exceptional initiative by Shri Sanjay Singhi for Smart Run and Smart Mahotsav -2019 to spread the message of adolescent girls empowerment through Smart Girl Programme at National Level.

Prakash Gulecha

(Karnataka-State Head Smart Girl Program)

Very active involvement in spreading the Smart Girl programme and Smart Run at state level by translating the programme content in the local language to maximise the reach.
Visit our Facebook Page for the latest programs, updates and videos.
https://www.facebook.com/BJSSmartGirl/