BJS' Parichay Sammelans (Matrimonial Meets) are conducted by BJS every year in various states. However, due to emergence of COVID19 pandemic in March 2020, BJS transitioned its in-person Parichay Sammelans to Online Matrimonial Meets. BJS' Online Jain Matrimonial Meets are receiving huge responses from Jain candidates from all over the world, as it allowed them access to see each other virtually and access more profiles from across the world without the need to travel amidst the lockdown and safety restrictions. In-person Jain Matrimonial Meets/Parichay Sammelans will restart once again when we all are through the pandemic and when life comes to normalcy.
BJS' Jain Matrimony: Program History
Since 1986, BJS is providing prospective Jain brides and bridegrooms with a unique opportunity for selecting the right life partner. Jain Matrimony Meet is a one-day event providing a wider platform for the selection of Jain Matrimony Brides and Jain Matrimony Grooms to find a suitable life partner.
In the present modern scenario, even the parents do not have sufficient time for their children. Due to globalization, higher education and changing lifestyle changes are evident in the attitude of Jain youth towards marriage. Jain families are now open to the idea of youngsters choosing the life partner of their choice. However, Jain youth in their single-minded pursuit of a career find less time to locate a partner of their choice. There is a need for more sophisticated Jain Matrimonial Services.
Though the means of communication have increased manifold leading to, parents connecting with each other easily to exchange data. but this has not resulted in quick decision making. On the contrary increased expectation and choices has made the task more difficult.
Bharatiya Jain Sanghatana's Jain Matrimonial Meets provides a solution to many of these problems. It blends in it all the traditional advantages, such as authenticity and trust, a larger community helpline and a readymade database that is checked and authenticated. BJS Jain Matrimony provides a readymade platform for prospective Jain Matrimony Brides and Jain Matrimony Grooms to find their life partners.
Who Can Participate in BJS' Jain Matrimonial Program?
Below Graduates, Graduates, Post Graduates Jain Candidates from all sects.
Highly Educated, NRI Jain Matrimony Brides & Grooms
Jain Divorce/Widow/Widower & Unmarried 30+ years and physically challenged
How Jain Matrimony Brides & Grooms can register their profiles?
The candidates can register themselves using BJS Connect Mobile App available on Google PlayStore and App Store. Thousands of Jain brides and grooms' profiles are available on India's one of the best Jain Matrimony App created by Bharatiya Jain Sanghatana.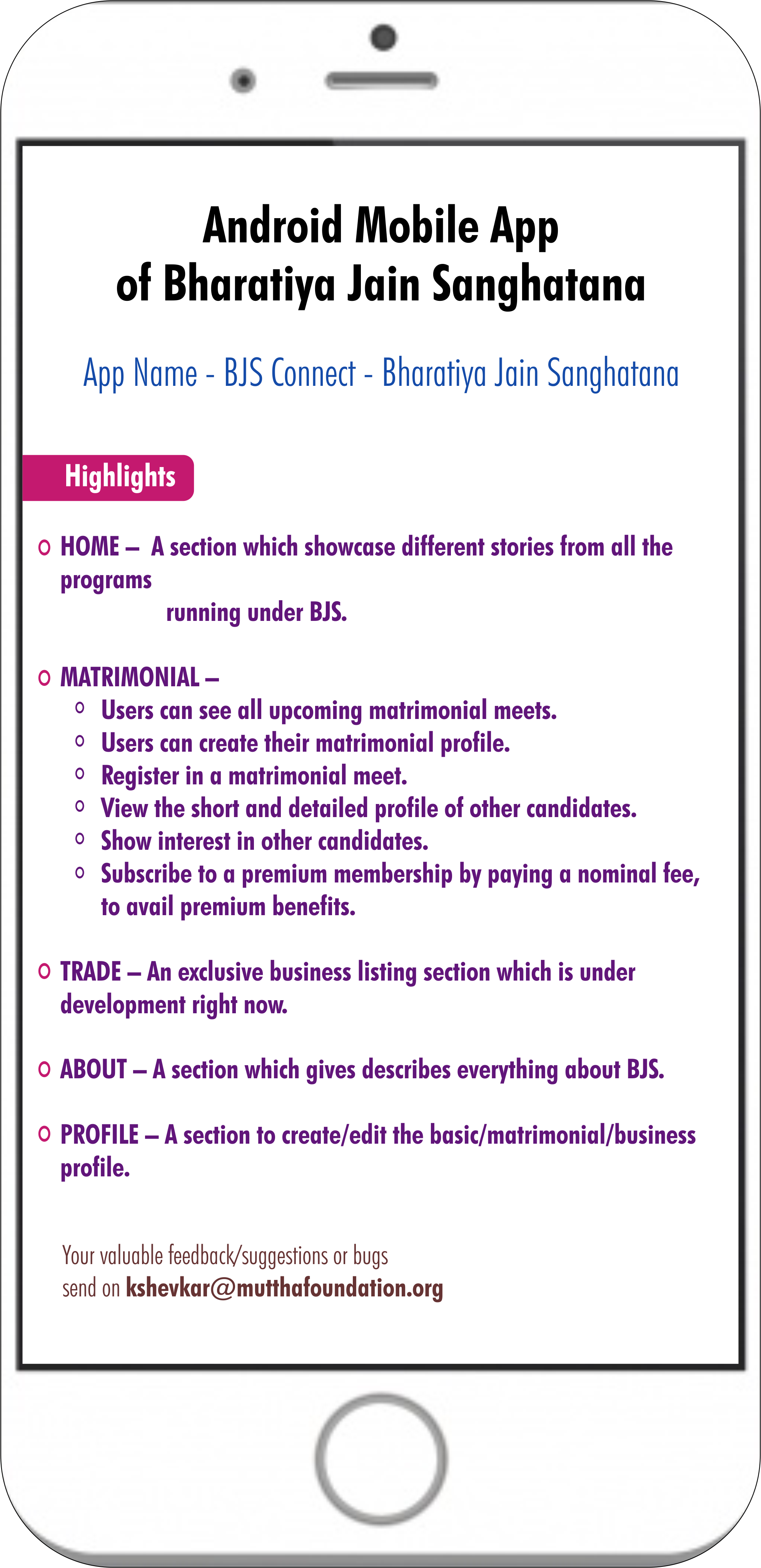 Jain Matrimony Biodata WhatsApp Group
BJS' Jain Matrimony also hosts a number of Jain Biodata WhatsApp Groups. If you wish to join BJS Jain WhatsApp Biodata Group, please send us a message here at: WhatsApp number 9158887019. Registration on BJS Connect Mobile App is compulsory before joining our WhatsApp groups.
BJSProgram Statistics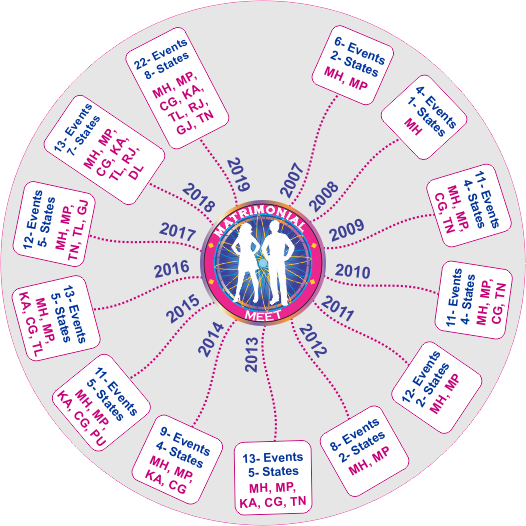 BJS' Jain Matrimony Meet Brochures
Read the brochures here to know more details about our BJS Parichay Sammelans / Matrimonial Meets.
Feedbacks from Participants & Parents
"Thanks BJS for giving such a wonderful opportunity to express ourselves. A Virtual Meet - It's a great initiative and great platform. Matrimonial Meet is a great platform for finding a right candidate. It is a great idea and supporting system that provided to us." - Participant
"In our experience, we have come across fraudulent platforms. It gives us satisfaction to be on a safe one." – Parent
"Very supportive initiative. Received timely support for all technical queries." - Parent
"We are trying to find the appropriate match for two years, and find this platform of BJS convenient." – Participant's Mother
"I realised the people do not help much in matters of matrimony, I found this a very reliable virtual platform as it cuts down the time of going to places."
"I realised the people do not help much in matters of matrimony, I found this a very reliable virtual platform as it cuts down the time of going to places."
Feedback Video
Media Coverage of Matrimonial Meet "Milan" at Jaipur in the year 2017.

Glimps of Matrimonial Meet "Milan" conducted at Jaipur in the year 2017.

Feedback by participent of Matrimonial Get together held at Indore in July 2019.
Do not forget to download BJS Connect Mobile App now to fight your right life partner!
Tags: Jain Matrimony, Jain Marriage Bureau, Jain Matrimony Brides, Jain Matrimony Grooms, Gujrati Jain Matromony, Uttar Gujarat Jain Samaj Matrimony, Tamil Jain Matrimony, Terapanth Matrimony, Jain Shaadi Sites, Best Jain Matrimonial Site, Jain Marriage Site, Jain Samaj Marriage Bureau, Jain Community Matrimony, Jain Biodata for Marriage, Second Marriage Jain Brides.